Posted by Emerald Coast Growers on Nov 17th 2023
These easy-to-grow grasses set the landscape, and sales, ablaze with blades that emerge green and transform into fiery autumnal shades.
Miscanthus s. Mystal™ 'Fire Dragon' PP30374
Upright, vigorous green foliage transitions in autumn to a range of vivid, reliable reds and oranges. In late summer, abundant silvery flower plumes rise high above the graciously curved foliage. Left uncut, the smoky white plumes provide long-lasting winter interest.
Mature height: 6-7'
Zones 4-9
---
Both varieties perform best when allowed to dry between waterings. Be careful not to overwater. Once established, these highly ornamental grasses are nicely drought tolerant.
Plant these Miscanthus selections in well-draining soil in bright, sunny spaces. High light and soil temperatures at or above 55 degrees at night will promote active, vigorous growth.
---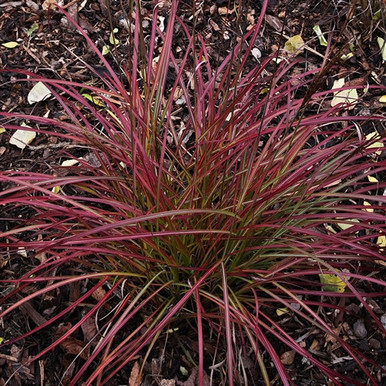 Miscanthus s. Mystal™ 'Little Miss' PP28849
Available in 38's and 72's.
Narrow, arching blades emerge glossy green, then turn deep shades of red to purple. The center leaves stay green for a striking bi-color effect. Forms tidy clumps sized just right for containers and smaller garden spaces.
Mature height:2-3'
Zones 5-10
---
Fire up your lineup with hot, colorful options from the Mystal™ collection. Start now with sizzling, ready-to-ship liners from Emerald Coast Growers – your easy choice!