When Size Matters... (Miscanthus xGiganteus and Alligator)
One of the tallest ornamental grasses we offer, "giant Miscanthus" is a stalwart sterile performer that can't self-sow. From magnificent upright clumps of wide green blades, flower stalks reach for the sky, bearing pink plumes that mature to silver. Hardy in Zones 4 – 9, it soars a majestic 10'!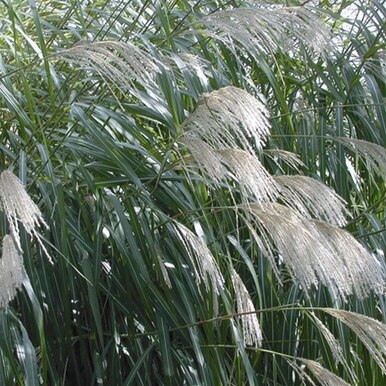 Naturally, not every garden setting can handle a grass of such stature. That's why we grow a littler giant.
---
Miscanthus Not-So-giganteus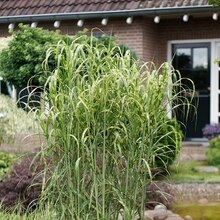 M. xg. Alligator ('Lottum') PP20348
For gardens that can't accommodate living skyscrapers, there's a fun-size option. Alligator features sturdy green upright foliage heavily banded with bright gold. Hardy in Zones 6-9, it stands a versatile 4 – 5' tall. That's still an impressive presence, but you won't hurt your neck looking at it.
A striking choice for the sunny border. For portable impact, offer it in big patio containers.
---

Fun fact: Giant Miscanthus is hot stuff. How hot? It's grown extensively in the UK and mainland Europe as a biofuel, burned for heat and to generate electricity.

Enjoy giant and not-so-giant Miscanthus in our gargantuan 21-cell liner. It's a big, bold 15 cubic inches of planting power from Emerald Coast Growers – the easy choice!