Posted by Emerald Coast Growers on May 12th 2023
This perennial is anything but traditional and every bit a classic.
Easy growing and elegant, Astilbe lights up shade gardens with beautifully vibrant, eye-catching spires. Rather than one solid flower, colorful plumes are clusters of blooms that open gradually for a feathery effect along the spike. This unique structure inspires the common name, false spirea.
Tooth-edged compound leaves are a perfect pairing to the showy blooms, with their bright green tones often brushed in bronze. Blooms persist well into fall and are nice as cut flowers, fresh or dried. Versatile! Heights range from one to three feet. Cold hardy to Zone 3.
While happiest in the shade, in cooler areas plants can tolerate a bit more light – though never full sun, or the foliage tends to burn. From borders to masses, Astilbe makes an impact wherever it's planted.
A few varieties to consider:
Astilbe 'Delft Lace' PP19839
Fantastic! Blue green waxy foliage with lacy silver overlay. Soft apricot pink blooms rise high on candy apple red stems.
Height: 36"
Blooms early summer.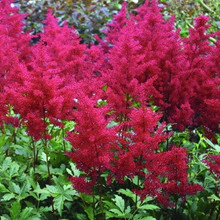 Upright clusters of eye-catching, wine-red plumes. Moisture lovers!
Height: 24"
Blooms midsummer.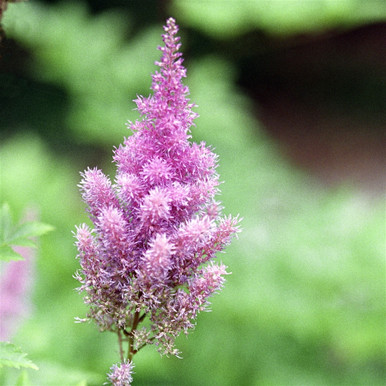 A cute, compact option with thick, lilac plumes over deeply cut, dark green foliage.
Height: 12"
Blooms late summer.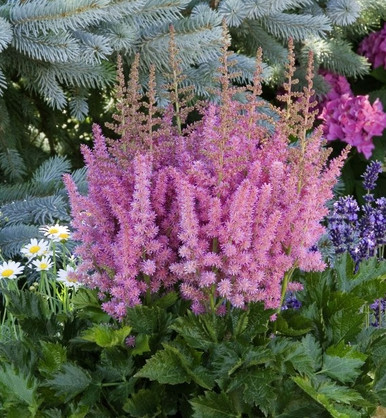 Astilbe c. 'Little Vision in Pink' PP21886
Sturdy pink plumes over deeply cut bronze and green leaves. More sun tolerant than many.
Height: 14-16"
Blooms midsummer.
---
Bolster your perennial selections for shady garden spaces. Add astounding Astilbe in easy growing, vigorous, 38-cell starter plugs from Emerald Coast Growers – your easy choice!