Posted by Emerald Coast Growers on May 19th 2023
Ever watch the sun set over the sea?
Remember how huge it looked as it slowly sank, closer and closer to the water? Didn't it seem twice as big as when it was high overhead?
That's Ocean Sunset™ for you. This series of ice plants was bred for brilliant blooms that open wide, significantly larger than any other on the market. We've grown them all, and they're all good, but oh, these flowers! They're not just bigger, the colors are hot! hot! hot!
All 3 varieties are a ground hugging 4-6" tall and are hardy in Zones 5-9. And like all Delosperma, the flowers close at night to reopen the next day.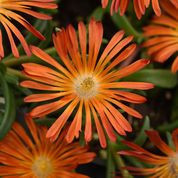 D. Ocean Sunset™ Orange Vibe PPAF
Smoldering orange flowers with white centers.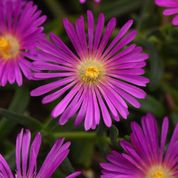 D. Ocean Sunset™ Violet PPAF
Purple petals with pink bases form a blushing eye around white centers.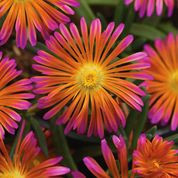 D. Ocean Sunset™ Orange Glow PPAF
Unusual bicolor blooms are pumpkin orange with electric purple tips.
---
Fun Fact
The sun and moon may appear larger when rising or setting, but you know better. It's a trick of the mind, known as the Ponzo Illusion. Imagine that!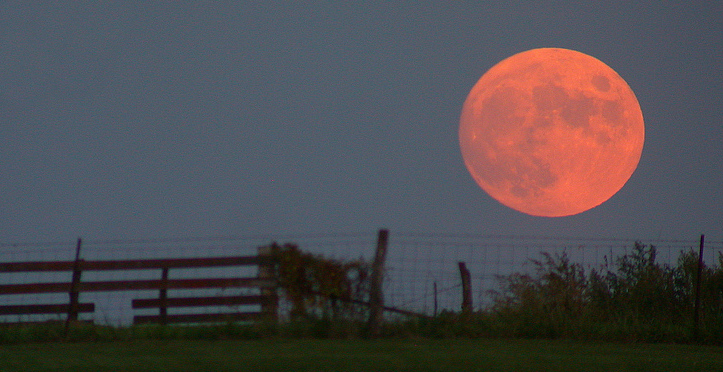 ---
You're not imagining the big bodacious blooms of Delosperma Ocean Sunset™. It's no illusion. They really are huuuuge! compared to other varieties. They come in slick planting, quick finishing 72-cell trays from Emerald Coast Growers – your easy choice!