Posted by Emerald Coast Growers on Jan 13th 2023
We grow so much Pennisetum xadvena 'Rubrum' – bench after bench, whole greenhouses full of it – that we sometimes wonder where it all goes. And then we take a drive, anywhere in North America, and there it is!
---
'Rubrum' barely needs an introduction. It's that gorgeous annual grass you see wherever you go. There it is -- waving its burgundy blades and matching foxtail flowers in big containers on Main Street, in landscapes public and private, surrounding fountains and flagpoles, flanking entrances. And looking great all season long!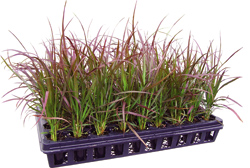 'Rubrum' routinely tops our top-seller list. It's gorgeous, good looks make it a staple at retail. It's so popular, we offer it in more sizes than anything else we grow economical 128's, our industry-standard 72's, robust 38's, or big, beefy landscape-ready 21's. So, whatever your potting needs, there's a perfect fit.
---
Put the star power of 'Rubrum' to work for you. You'll wonder where it all went when you start with hot-to-pot liners from Emerald Coast Growers – the Easy Choice!